E-GYRO by PCFlight Systems
A low cost miniature Turn, Bank and Pitch indicator developed specifically for general aviation applications.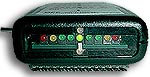 Now any aircraft can have an electronic turn and pitch indicator.
The E-GYRO utilizes state-of-the-art solid state electronic devices to perform the functions provided by conventional mechanical attitude/artificial horizon gyros. The system consists of a self powered electronic gyro module with a built in turn/bank and pitch light bar display. The display is color coded so high turn rates and pitch angles cause a red light to indicate the direction of the high turn and/or pitch angle, alerting the pilot to a potentially dangerous attitude.
Color coded light bar displays turn rate, bank and pitch
Portable - Pocket sized
Battery Powered - solid state
High reliability electronic gyros
Low cost
Works in all aircraft
No vacuum system required
No electrical system required
No external connections
No GPS, or any other connection, required
Fully self contained
Order E-GYRO today for only $495.