Our Fourth Generation Gyro Modules are now
IN STOCK AND SHIPPING
eGYRO-USB
only $595.00
AND
eGYRO-BT
only $695.00
THE NEXT GENERATION OF FULL 3 AXIS SOLID-STATE
GYROS
2.5" wide x 1.0" high x 4.0" long 5 oz

with USB (eGYRO-USB)
for use with tablet PC's
or
BLUETOOTH WIRELESS (eGYRO-BT)
for use with tablet PC's and PDA's
THESE NEW GYROS HAVE THE SAME PERFORMANCE AS OUR eGYRO-XP PRODUCTS, BUT THEY DO NOT CONTAIN ANY INTERNAL BATTERY BACKUP, OR EXPANSION OPTIONS - IF YOU REQUIRE BATTERY BACKUP, OR DESIRE ADDITIONAL OPTIONS, THEN YOU MUST USE OUR eGYRO-XP SERIES PRODUCTS.
Can be used with:

3D SYNTHETIC SYNTHETIC VISION SOFTWARE

EXAMPLE SCREEN OF MountainScope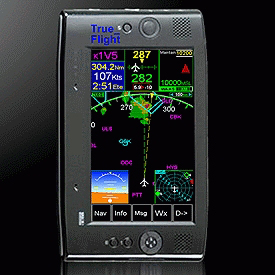 EGYRO-GC-PLUS
THE COMPLETE POCKET SIZED EFIS SYSTEM WITH FULL 3 AXIS SOLID-STATE GYROS, AIRDATA, MAGNETIC HEADING, 20 CHANNEL HIGH PRECISION GPS, AND BLUETOOTH WIRELESS INTERFACE BUILT IN. FULLY SELF-CONTAINED IN A SMALL UNIT
2.5" wide x 1.0" high x 4.0" long 5 oz.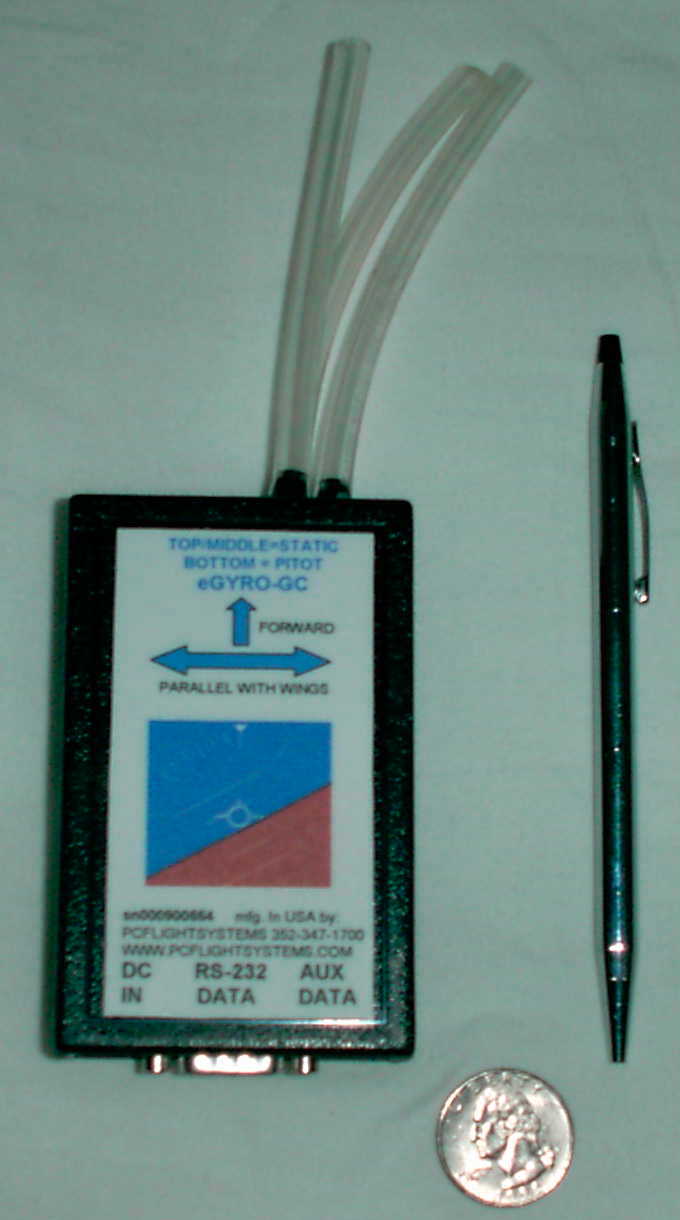 ONLY $1595 Order

FULL EFIS SYSTEM WITH ATTITUDE, MAGNETIC HEADING, AIRSPEED, ALTITUDE, GPS AND MUCH MORE.

WORKS WITH PDA's, TABLETS, LAPTOPS, AVIATION AND AUTO PC SYSTEMS.

SOLID-STATE - NO MOVING PARTS - EXACT SAME TECHNOLOGY USED BY AIRLINERS

OPTIONS INCLUDE FULL GPS MOVING MAP SYSTEMS, "HIGHWAY IN THE SKY", FLIGHT DIRECTOR, AUTOPILOT AND MORE!

AFFORDABLE 3D SYNTHETIC VISION SYSTEM
PRIMARY FLIGHT DISPLAY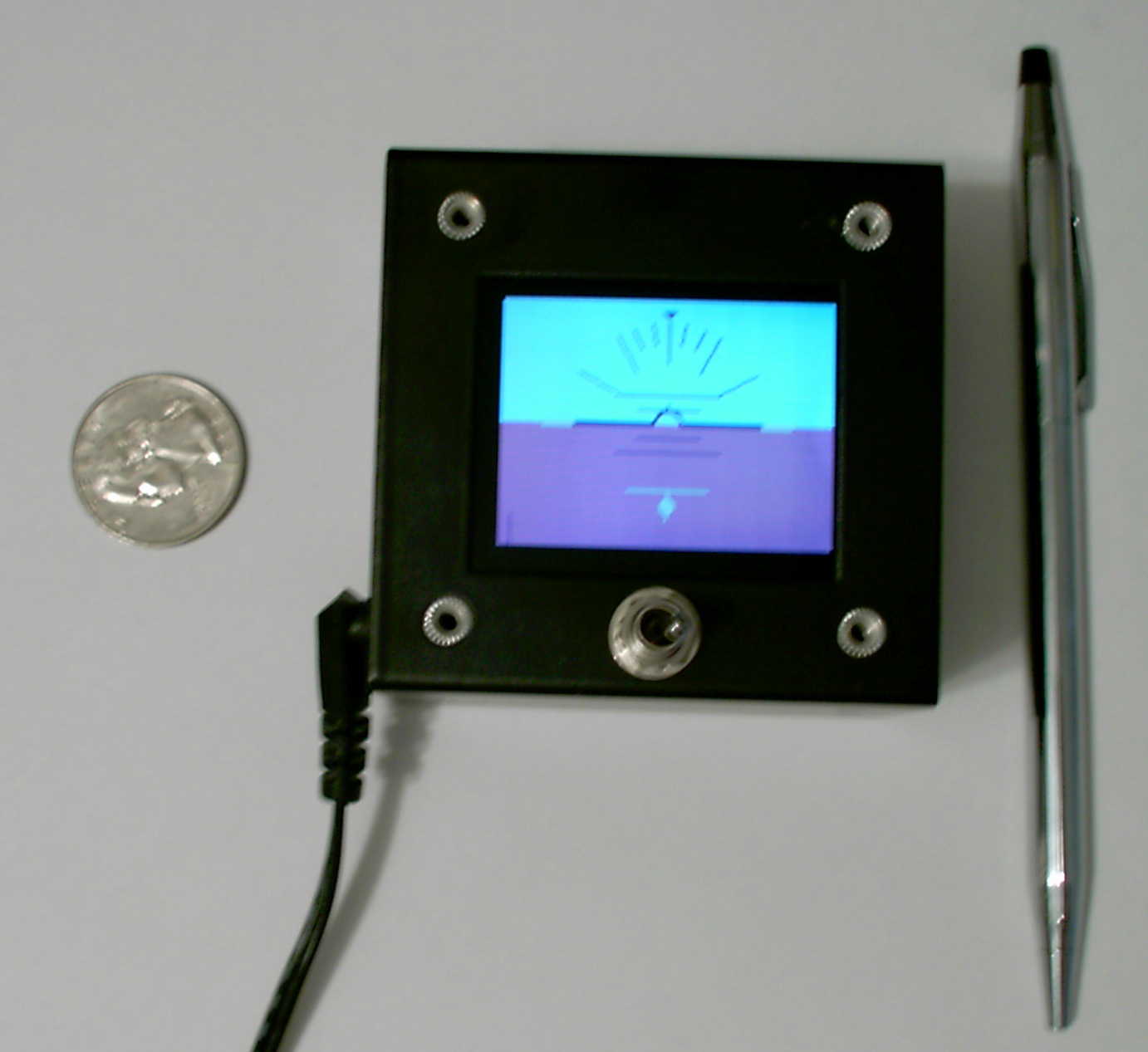 "WHILE OTHERS IMITATE WE INNOVATE"
OUR EGYRO-2 IS ANOTHER EXAMPLE OF OUR
CONTINUOUS INNOVATION.
Many competitors are now trying to copy our EGYRO-3 and EGYRO-2 Products. Don't be fooled by these imitators which use obsolete "steam gauge" technology with moving parts and low quality displays in some of their "NEW" products.
We have shipped thousands of our eGYRO-2 and eGYRO-3 products and they are far superior to the "new" copies being introduced by some of our competitors. Features of the EGYRO-2 include:
100% SOLID STATE - NO MOVING PARTS
COLOR GRAPHIC DISPLAY
SUNLIGHT AND NIGHT READABLE
BATTERY BACKUP - WORKS EVEN WITH POWER FAILURES
SMALL SELF CONTAINED UNIT MOUNTS IN STANDARD 2 1/4" INSTRUMENT HOLE
INCLUDES TURN RATE AND SLIP/SKID BALL
MAGNETIC HEADING AND GROUND TRACK DISPLAY OPTION AVAILABLE
Click here to download our newest product list
See the reviews of our first and second generation products in the February 2002, February 2003 and October 2003 issues of The Aviation Consumer. www.aviationconsumer.com
Now Available - Complete ADAHRS (air data, attitude gyro system) works with OpenGC EFIS software. Pocket sized ADAHRS with built in airdata system, magnetometer and gyros ONLY $1495.00. Just plug into the serial port of your PC and you have a full EFIS system.
eGYRO-XP - Provides full Electronic Horizon for PDA, tablet and laptop PC systems. Only $895.00
We keep products in inventory and ship most of our products within 24 hours of receipt of an order.
PCEFIS Version 3.6 with "Highway in the Sky" now shipping.
Portable Head Up Display EFIS System is now available.
We now have a complete Portable Head Up Display system. Special offer price is $8995.00 for the complete system. This includes: Head Up Display Unit, PCEFIS gyro module with GPS interface, interface module, and GlassHorizon software. For more information see www.microvision.com.
Flight Performance and Flight Path Logging Functions now available for GlassHorizon/PCEFIS
PDF Description of 3.6 Display Functions
PCEFIS GlassHorizon Version 3.6B Software is now available for free download. This version includes tape displays for altitude and groundspeed with rolling digits!
E-MON now fully supports data logging functions. Systems can now log and store over 5 gigabytes of data. E-MON is a software program which converts PocketPC handheld computers into an engine instrument display, analysis and data logging/playback system. Supports existing engine instruments which have RS232 data output options. Also supports the Aerosance/Continental FADEC engine controllers.
Aerosance "Plug and Play" eMON. You can now order the "E-MONFADEC" Aerosance version directly from us, or order it as part of a complete Aerosance Fadec system from Aerosance. It has full data logging features - can store all engine data for future analysis and replay. Up do 5 Gigabytes of data can be stored on a single PC compatible memory card. Data can then be analyzed in detail using Windows based personal computers.
THE FIRST AND ONLY affordable electronic attitude/gyro horizon display for general aviation THAT REALLY WORKS!!!. No moving parts - completely battery powered! (patents pending) No vacuum system or aircraft electrical system is required and it costs less than electro-mechanical gyro horizons using obsolete technology. Uses the same technology used for Boeing 777 systems. Now available for PDA's. Tablet and Laptop computer systems.
We now offer full ADAHRS systems with air data, magnetometer and gyros - complete module is smaller than a cigarette pack. Works with the www.opengc.org EFIS software on tablet and laptop computers. This is our eGYRO-GC system - ONLY $1495.00. performs all calculations within the gyro module. This frees up the display computer so that it can be simultaneously used for many other applications, including display and logging of engine performance data, moving map display, and weather depiction. Custom IMU units now available and shipping for UAV, Antenna Pointing and Marine Applications. If you need a custom IMU unit call us - we can provide an IMU for ANY application. WE ARE THE LOW COST IMU EXPERTS. We also now offer complete UAV guidance and control systems for any size UAV. Send an email to info@pcflightsystems.com for details.