EPANEL by PCFlight Systems
Provides a complete state-of-the-art "Glass Cockpit" instrument panel display.
EPANEL uses a 10.4" aviation grade sunlight-readable color display to provide a complete instrument panel in a single display. EPANEL simultaneously displays the following information:
Attitude/Artificial Horizon Display
Directional Gyro Display
Turn Coordinator with slip/skid ball
Altitude, Airspeed, Rate of Climb
Flight Director (Autopilot interfaces are available as an option)
"Highway in the Sky" Navigation Display
Moving Map Display (Weather depiction is available as an option)
All Engine Instruments
Much More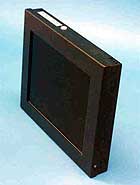 EPANEL Consists of the Following:
10.1" Sunlight REadable Color Display (11" wide x 9" high x 1" thick - 1500 NIT Brightness - 1024 x 768 resolution)
PCEFIS Solid State Attitude Heading Reference System
EMON/EDATA Electronic Engine Instrument transducer interface module including Air Data Pitot and Static system pressure transducers and Manifold Pressure transducer. Uses low cost standard transducers for all engine parameters (additional transducers are optional and typically cost less than $500 for a conventional 4 cylinder aircraft engine).
Compaq iPaq Control and CPU Module with 3.5" sunlight readable co-pilot display
Moving map system (weather depiction is available as an option)
One Year of Free Software and database updates
Order EPANEL today for only $7,995.